What is Antifreeze?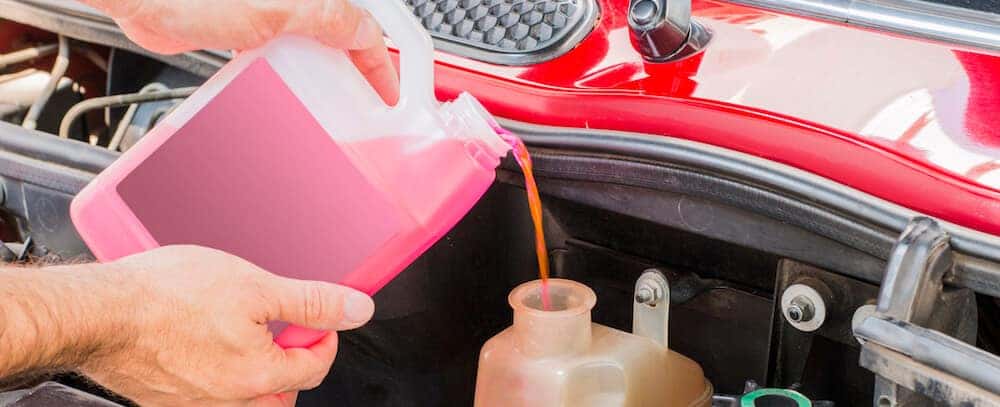 Antifreeze is a type of coolant and is referred to as an engine coolant. When the temperatures hit below freezing, it's essential to make sure your Chrysler, Dodge, Jeep, Ram has what's needed to run safely and smoothly and that means keeping your antifreeze filled up. Every winter we see firsthand what freezing water can do to the roads in Greenville, just think of what can happen to your car's engine without enough antifreeze.
Without any antifreeze, your Chrysler, Dodge, Jeep, Ram could stop running. Or, worse, your engine can overheat and crack. Our trained technicians at Doug Henry CDJR are here to ensure your vehicle runs correctly for years to come.
What is Antifreeze Used For?
What is antifreeze made of and is antifreeze coolant? These are questions drivers in the New Bern area often ask when they visit our auto service department in Kinston.
Antifreeze has a dual purpose of keeping the engine protected, as well as making sure there's no corrosion buildup on the engine, it aids heat transfer, and prevents scale from building up internally.
Antifreeze is a bright yellow or green liquid made by mixing distilled water with additives and a base product, which is either Mono ethylene glycol (MEG) or Mono propylene glycol (MPG). Antifreeze is then poured into the proper container in the engine. The MEG regulates and maintains the regulated operating temperature through remarkably cold and hot weather conditions. The correct antifreeze fluid levels are needed to prevent corrosion build up in your car's engine.
How Often Should I Refill My Car's Antifreeze?
It's essential to make sure the fluids in your vehicle get drained and replaced at various intervals. Otherwise, the antifreeze becomes ineffective. Your coolant should get changed at least twice a year, but check your levels before the summer heat and winter cold temperatures kick in. Refer to your car's manual for more detailed information about when to flush and replace the coolant.
Find Affordable Car Service in Kinston
It's important to make sure your vehicle is running smoothly to ensure it's safe to drive on the roads in Doug Henry CDJR. Visit Doug Henry CDJR and a reliable mechanic in Kinston will inspect your vehicle, including the fluid levels. Contact our Kinston dealership with questions about antifreeze and how to replace it, or to schedule a service appointment.  Don't forget to ask about our current service specials and coupons so you can save on car service when you schedule car service in Kinston.